| 0000-00-00 00:00:00
LINKS TO RECENT NEWSLETTERS:
MAY 2017: Public Expedition Zandmotor#11 & Festival Designkwartier: http://ymlp.com/zOStI4
APRIL 2017: Werklandschap Zandmotor: http://ymlp.com/z0xv4D
FEBR 2017: Intersections, Art Rotterdam: http://ymlp.com/zPtgN7
DEC 2016: Public Expedition Solleveld & Zandmotor#10: http://ymlp.com/zcKkfI
SEPT 2016: Public Expedition Zandmotor#9: http://ymlp.com/zxLgwZ
AUGUST 2016: News! http://ymlp.com/zwQMFb
JULY 2016 Expeditie#8: Landschapsextracten Waterland: http://ymlp.com/znG3bW
JUNE 2016 Public Expedition Zandmotor#7: http://ymlp.com/zwDxce
‪MAY‬ 2016 Festival Designkwartier: http://ymlp.com/zw0Fbp
APRIL 2016 News & Review: http://ymlp.com/zV8MLA


Dutch artists collective Satellietgroep (The Hague, 2006) explores the sea, coastal transitions, climate change and the role of mankind in these processes in The Netherlands and abroad.

The team of artists collective Satellietgroep performs artistic field research into the impact of mankind on climate change, sea level rise & the hybrid relations between mankind and socalled (often man made) nature in The Netherlands and abroad, collaborates with international colleagues initiatives and works with artists in residents, artists, designers and students during their artistic process to do fieldwork and develop new works and insights. We connect arts and science with audiences. Sometimes residents also become part of the collective!
The current curatorial team of Satellietgroep is Jacqueline Heerema, Francois Lombarts and Lotte Bosman.
Check out our residency opportunities in The Hague at www.gueststudio.com at www.dedcr.nl

ZANDMOTOR
Special location for artistic research and artist in residency program is the Zandmotor south of The Hague. Since 2014 Satellietgroep explores the Zandmotor as cultural phenomenon.
The Zandmotor is a pilot near The Hague that uses the principles of 'Building with Nature'. This innovative project aims to generate new knowledge in times of climate change and relative sea level rise for our future coastal protection. An innovation, built on the foreshore in 2011 with 21,5 million cubic meters of sand. The Zandmotor is the only Dutch area outside the dikes that is exposed to the tides, built to transform and even assimilate around 2030 in sea, beach and dunes. The result is a dynamic extension of the coast, a new controlled 'wilderness'. The Zandmotor is an publicly accessible open air scientific and artistic laboratory.

ZANDMOTOR ARTISTS IN RESIDENCE, DESIGNERS, STUDENTS:
2017:
Lotte Geeven - The Sand Machine
Maurice Meewisse - Coffee Break
Cocky Eek - Landing Sites
2016
Satellietgroep & Onkruidenier - Waterpionier
Atelier NL - Zandmotor ZandGlas
ArtScience students - ElementsLab
iii - Sand Songs
2015
Esther Kokmeijer - Climate Proof
Laboratory for Microclimates - Zandzicht
Sarah Cameron Sunde (USA) - 36.5/a long durational performance with the sea
Berndnaut Smilde - Breaking Light, followed by Breaking Light#2 during TodaysArts
Josje Hattink - Mistaking Clouds for Mountains
Theun Karelse - Next Doggerland, Fossils Soup
2014
Zoro Feigl - Untangling the Tides

INTERNATIONAL EXCHANGE PROGRAMS:
New York City, Japan, UK, Malta, Lithuania, Russia, Georgia, Moldova, Turkey & more.


PROGRAM 2017

OEROL JUNE 9-18, 2017
TUINIEREN ZONDER GRENZEN - GARDENING WITHOUT BOUNDARIES
SATELLIETGROEP & ONKRUIDENIER
The team of Satellietgroep (Francois Lombarts, Lotte Bosman & Jacqueline Heerema) together with De Onkruidenier (Jonmar van Vlijmen & Ronald Boer) is exploring during field research our collaborative and inclusive project for Oerol 2017 - Expedition Program on Waddenisland Terschelling. The working title is 'Habitat ex situ'. More information soon, but mark your callendar: Oerol takes place June 9-18 2017!
INVITATION 19-20-21 MEI 2017
TIJD MAKEN - MAKING TIME
SATELLIETGROEP AT FESTIVAL DESIGNKWARTIER THE HAGUE
With Masha Ru, Nishiko, Atelier NL, Maurice Meewisse, Lotte Geeven and experts of the Tempel.
Location: Tempel, department of Archaeology, Nature and Environmental Education, Prins Hendrikplein, The Hague
Time: Friday May 19, Saturday May 20 and Sunday May 21 11:00 - 18:00
Free admission!
www.festivaldesignkwartier.nl
www.denhaag.nl/archeologie

Volgend op het succes van vorig jaar werkt kunstenaarscollectief Satellietgroep ook dit jaar weer tijdens Festival Designkwartier 2017 in en met de Tempel, centrum voor Archeologie, Natuur- en Milieu Educatie Den Haag.
'TIJD MAKEN - MAKING TIME' gaat over een gedeelde passie voor grondstoffen, scherven, constructies en reconstructies van tijd en plaats. Er bestaat een wijdverspreide fascinatie om in het landschap sporen te onderzoeken, verzamelen en archiveren. Waar die passie vandaan komt is een van de vragen waar we samen met kunstenaars, vormgevers en de medewerkers van de Tempel bij stil staan.

Following the success of last year, artists collective Satellietgroep works again at and with the Tempel, department of Archaeology Nature and Environmental Education The Hague, during Festival Designkwartier 2017
'TIJD MAKEN - MAKING TIME' is about the shared passion for raw materials, shards, constructions and reconstructions of time and place. There exists a wide spread passion for exploring, collecting and archiving traces in the landscape. The origin of this passion is one of the questions we relate to together with artists, designers and experts of the Tempel.

WORKSHOPS & MORE FOR CHILDREN & ADULTS:
Explore what the world looked like through a microscope and help wash and paste shards with the experts of the Tempel.
Each day 12:00 - 13:00 Making your own Fossils with Nishiko
Each day at 16:00 - 17:00 Collective Soil Tasting with Masha Ru
Join Atelier NL and you can buy your Zandmotor ZandGlas!




EATABLE CERAMICS & EARTH TASTING BY MASHA RU
Join Masha during the Collective Soil Tasting, each day 16:00 - 17:00

For Festival Designkwartier Masha selected 60 soils from around the world and presents 'Eatable Ceramics'. Geophagy is a phenomenon of eating earth and soil-like substances. In a number of countries all over the world geophagy is a cultural and spiritual tradition. However, in Europe and United States it is officially regarded as a psychological disorder, which is included into DSM-IV. This installation presents 'edible' soils from various countries. The clays can be tasted. We tasted all of it. Some of it we eat regularly. However, we did not analyse all of it yet. Thus, eating is at your own risk.
With special thanks to Atelier NL and Mondriaan Fonds for the support of Masha Ru in 2015-2017.
http://masharu.nl/
MAKING YOUR OWN FOSSILS BY NISHIKO
Join Nishiko for Making your own Fossils, each day 12:00-13:00

Shells, mammoth bones, insects, footsteps. A great duration of time is one of the key ingredients of becoming a fossil. Christiaan Rieffe, geologist at the Tempel, explained that almost anything which survived 4000 years can be considered as a fossil. Taking that as a starting point, visual artist Nishiko organises the workshop "making fossils", in an attempt to design our own fossils. Let's hope, someone will uncover your fossils in 4000 years!

REPAIRING WORK OF VALERIE DEMPSEY AND RONALD BOER 'BEACH LABORATORY' BY NISHIKO
A broken wine glass, four broken glass bottles and shards of specimen dishes, plaster and things made, found and received during the process.

The original artwork 'Beach laboratory; Coastal Reckoning' of Valerie Dempsey and Ronald Boer consisted of distilled seawater and extracted sea salt, which the artists collected at four points on the beach in Scheveningen, during the residency program at Badgast organised by Satellietgroep in 2010. During exhibition at Nest in summer 2011, the salt was displayed in four specimen dishes, and behind these, the water stored in four bottles. An accident took place during the opening, when someone placed a wine glass on the shelf on which the work was displayed. It fell to the ground, and the work was completely destroyed.
When Nishiko witnessed the incident, she was concurrently occupied with repairing broken objects, and so was moved to keep the shards, promising the artists to repair their work. The work is a hommage to the numerous coincidences Nishiko has had through her 'Repairing Earthquake Project' that started in 2011, just after she encountered the fallen artwork.
With special thanks to Elizabeth Ogilvie for the exchange residency program with Satellietgroep at Sea Loft, Scotland in 2016.
http://nishiko55.com/




ZANDMOTOR ZANDGLAS BY ATELIER NL
Join Atelier NL and you can buy your Zandmotor ZandGlas!

Last year during Festival Designkwartier designers Nadine Sterk and Lonny van Ryswyck of Atelier NL presented the research, this year the product!
Nadine and Lonny used the sand from the Zandmotor and developed ZandGlas in collaboration with our network of scientists. For the manufacture of the limited edition, the designers worked together with Gert Bullée, top glassblower in the Netherlands. At high temperatures, the wild sands of the Zandmotor melt and eventually transform into characteristic, pale green glass. Sleek and elegant design in a sophisticated colour, and with charming imperfections that make each object unique. These are the very first glass products in a larger series that Atelier NL is crafting out of sand from dunes, beaches, rivers, deserts, mountains and sandpits in the Netherlands and beyond. Photo: Teun van Beers.
www.ateliernl.com




THE NOISE OF TIME BY LOTTE GEEVEN

If you listen carefully you can hear a very soft and constant rustling sound in the background wherever you are: the noise of time. Resident artist Lotte Geeven - who is at the moment researching acoustic sand - created a small edition of acoustic hourglasses entitled ' The noise of time' after the eponymous novel by Julian Barnes. These instruments filled with very fine sand can be played by one simple hand-gesture that sets 1.5 millions grains in motion. This is one small hand out of the monstrous amount of approximately seven quintillion five quadrillion grains of sand on earth that are rolling and swirling over the globe; choreographed by winds and currents.
www.singingsand.org | www.geeven.nl




WERKLANDSCHAP ZANDMOTOR - LABOUR LANDSCAPE ZANDMOTOR
BY MAURICE MEEWISSE


MARCH - APRIL - MAY 2017:
WERKLANDSCHAP ZANDMOTOR
LABOUR LANDSCAPE ZANDMOTOR
We warmly introduce and invite you to join the Zandmotor research in progress by parallel artist-in-residence Lotte Geeven and Maurice Meewisse as part of the Mondriaan Fonds Binnenland Gastatelier Program during March-May 2017.
With special thanks to Mondriaan Fonds Binnenland Gastatelier program.


SPECIAL:
INVITATION MAY 12
PUBLIC EXPEDITION ZANDMOTOR#11: IJZER - IRON
BY MAURICE MEEUWISSE
Location: Zandmotor, between F1 and F2, maked X on map below
Check for directions: http://www.dezandmotor.nl/nl/strandbezoekers/route-naar-de-zandmotor/
Time: 10:45 - 18:00
Please note: COFFEE BREAK at 10:45 - 11:00




Artist Maurice Meewisse is fascinated how the Zandmotor is in a way also the accomplishment of industry, the result of human endeavour, even though it is experienced as nature.
With a mixture of natural and human-made materials he will start a small scale industry: with charcoal he produced himself from driftwood that washed ashore on the Zandmotor and the low quality iron ore he found at the Zandmotor, Maurice will attempt to make iron on May 12.




INVITATION APRIL 17 - MAY 16
KOFFIEPAUZE ZANDMOTOR - COFFEE BREAK ZANDMOTOR
BY MAURICE MEEWISSE

Maurice Meewisse doet onderzoek naar de randverschijnselen en de bijwerkingen van de Zandmotor. Hij zoekt naar onverwachte materialen die niet op een strand thuis horen – en dan voornamelijk obscure objecten – zoals steenkool en ijzeroer. Met de mengeling van natuurlijk materiaal en niet natuurlijke producten wil hij een kleinschalige industrie opzetten: Hij gaat ijzer maken. Op een bepaalde manier is de Zandmotor ook een product van de industrie, ondanks dat het in de beleving als natuur wordt gezien. Meewisse zal daar een belangrijk dagelijks ritueel introduceren: de koffiepauze.
Gedurende vier weken opent hij een kantine waar mensen welkom zijn om een kopje koffie te komen drinken – elke werkdag open van 10:45 tot 11:00.
www.mauricemeewisse.com




Maurice Meewisse researches the fringes and side effects of the Zandmotor. He looks for materials that aren't expected on the beach – preferably obscure objects – like coal and low quality iron ore. With a mixture of natural and human-made materials he will start a small scale industry: he will make iron. The Zandmotor is in a way also the accomplishment of industry, the result of human endeavour, even though it is experienced as nature. To this he will introduce a very important daily ritual: the coffee break.
For a four week period he opens a cantine where people are invited to come and enjoy a cup of coffee – open every working day between 10:45 and 11:00.
www.mauricemeewisse.com

DE ZAND MACHINE - THE SAND MACHINE
BY LOTTE GEEVEN

Woont u in de woestijn?
Help ons het akoestisch zand te verzamelen vanuit de afgelegen plaatsen op deze planeet waar het zand zingt, fluit, giert en brult. Dit zeldzame zand vanuit de hele wereld zal samen komen in een publiek geluidskunstwerk.
Voor het kunstproject in ontwikkeling, verzamelt kunstenaar Lotte Geeven akoestisch zand uit de weinige en afgelegen plaatsen in de wereld waar dit zeldzame fenomeen zich voordoet en de woestijn brult en zingt. Ook op de Zandmotor is een stukje 'zingend zand' te vinden waarmee Geeven haar eerste tests heeft gedaan. Via Facebook, Twitter, telefoonboeken, onverwachte sporen en Google Maps spoort ze mensen op die in bepaalde extreem afgelegen gebieden leven en overtuigt hen om akoestische zand naar Nederland te sturen. Op dit moment rijden een limousine bestuurder in Oman genaamd Rizwan, evenals Luca uit Kazachstan en Melanie, die op de eenzaamste snelweg in de wereld in Nevada woont, naar de woestijn om zandkorrels te verzamelen, die samen zullen klinken in het kunstwerk. Voor de laatste partij van dit speciale zand reist de kunstenares binnenkort zelf naar de Namib, de oudste woestijn van de wereld.
Als u wilt helpen en toevallig in Mongolië, Chili, Afghanistan, Kazachstan, China, Qatar, Oman, Tsjaad, de Westelijke Sahara, Marokko, Californië of Nevada woont, of iemand kent die daar woont: stuur dan een e-mail naar Lotte Geeven (info@geeven.nl) en zij zal zo snel mogelijk contact met u opnemen. Alvast bedankt!
Voor meer informatie over het project, waar akoestisch zand te vinden is en hoe het klinkt:
www.singingsand.org
www.geeven.nl




Are you living in the desert?
Help collect acoustic sand from the few remote areas on this planet where the sand sings, whistles, booms and roars. This rare sand from all over the world will be sounding together in a public artwork. For the art project in progress, artist Lotte Geeven is collecting acoustic sands from the few remote places in the world where this rare phenomenon occurs and the deserts roar and sing. Also on the Zandmotor, traces of 'singing sand' can be found with which Geeven started her first experiments. Through Facebook, Twitter, phonebooks, wild leads and Google maps she is tracing people that live in the extremely remote areas and persuades them to send acoustic sand. At this very moment a limousine driver in Oman named Rizwan; Luca, from Kazakhstan and Melanie, who is living on the loneliest highway in the world in Nevada, are all about to drive into the desert to collect these sand grains that will sound together in the artwork. For the last batch of this special sand the artist herself will travel to the Namib, the world's oldest desert.
If you feel like helping out and happen to live in Mongolia, Chile, Afghanistan, Kazakhstan, China, Qatar, Oman, Chad, Western Sahara, Morocco, California or Nevada or know someone who lives there: please send an email to Lotte Geeven (info@geeven.nl) and she will get back to you a.s.a.p. Thank you!
More information about the artwork, where to find acoustic sand and what it sounds like:
www.singingsand.org
www.geeven.nl


MARCH - MAY 2017
LOTTE GEEVEN & MAURICE MEEWISSE
ARTIST-IN-RESIDENCE WITH SATELLIETGROEP
BINNENLAND GASTATELIER MONDRIAAN FONDS
Lotte and Maurice will work parallel for 3 months (March, April, May 2017) on the Zandmotor with Satellietgroep at DCR Gueststudios, selected after the open call through the Mondriaan Fonds: https://www.mondriaanfonds.nl/aanvraag/de-zandmotor-i-s-m-satellietgroep-en-dcr-gueststudios-den-haag-voor-kunstenaars-en-bemiddelaars/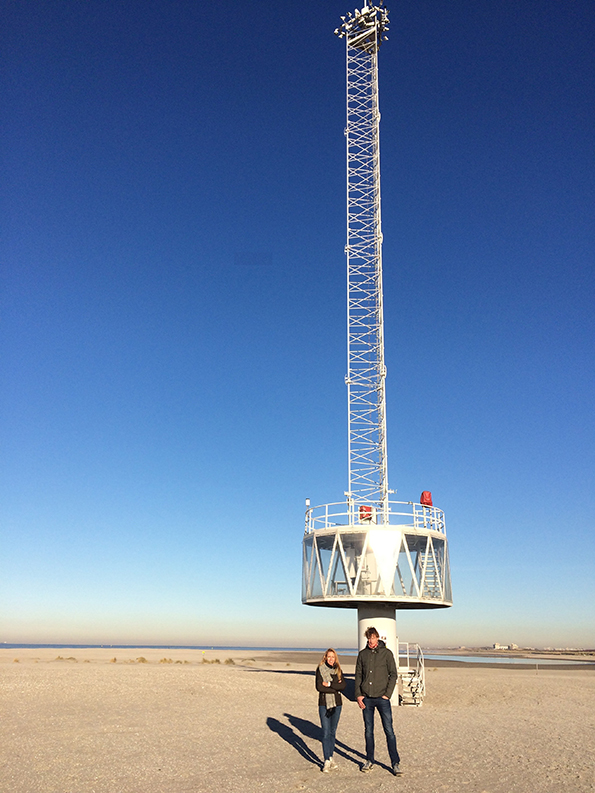 FEBRUARY - SEPTEMBER 2017:
COCKY EEK 'LANDING SITES'
ZANDMOTOR ARTIST-IN-RESIDENCE & OEROL
IN COLLABORATION WITH SCHWEIGMAN&, MATTHIJS MUNNIK & GEARTSJE VAN DER ZEE

The project will start with preliminary research at Zandmotor in February 2017, develop during Oerol June 2017 to be presented at Zandmotor in September 2017.
During the first part of the artist-in-residency there are a two public presentation moments at the Zandmotor: Friday February 17 at 13:00h and Friday March 3 at 13:00h.
We meet at Argusmast at Zandmotor.
You are very welcome to join, please contact us in advance at satellietgroep@gmail.com

The Zandmotor is a man-made landscape that will dissolve in about 15 years into sea, beach and dunes. Right now, how can we sense its wide-open space and the movement it contains in all its intensity? The body is always located in relation to the space that contains it. Space is something that is experienced in motion that first makes it appearance through movement. During this research period body and space are the materials that are set into relation to each other. At the Zandmotor we will explore and develop wearable interfaces to create new sensory relationships in which our inner landscape will converge with the landscape that surrounds us. The interfaces will stage us in a contemporary drama in which we are part of and separate from our environment.

The process of Landing Sites can be followed at the blog https://landingsites.wordpress.com/
Landing Sites is a project by Cocky Eek in collaboration with Matthijs Munnik, assisted by Geartsje van der Zee. The outcomes of the artist-in-residence at the Zandmotor will be presented at the Oerol Festival 2017 and at the Zandmotor itself in September. Landing Sites is a coproduction of Schweigman& and Satellietgroep. Stroom Den Haag generously supports Landing Sites.

WATERPIONIER ZANDMOTOR SOUND SCAPE
Listen to the sound scape 'Waterpionier' by Satellietgroep and Sciant Lentement, recorded at Zandmotor (2016). First released at Audio The Hague (2016): http://iiinitiative.org/editions/audio-dh/ Now published in Station to Station - All that Art online magazine by jajajaneeneenee.com (2017) http://www.transartists.org/sites/default/files/station2station/2/


FEBRUARY 9-12, 2017
'PROSPECTORS: THREE LAYERS OF LANDSCAPE'
INVITATION TO JOIN SATELLIETGROEP AT INTERSECTIONS, ART ROTTERDAM
FREE admission to Intersections! More information: www.artrotterdam.com
Open: Thursday 9/2: 11-19, Friday 10/2: 11-21, Saturday 11/2: 11-19 u and Sunday 12/1: 11-19

During Intersections, Art Rotterdam artists collective Satellietgroep presents in collaboration with De Onkruidenier and guest artist Flora Reznik 'Prospectors - Three layers of landscape'.
We show a non-romantic approach of artistic manual labour; of art as durational research methodology, disseminating the raw materials of the roles we play as observers, actors, explorers and prospectors of liminal landscapes. With the tools we need, with the landscape ingredients, archives and lexicons we collect, and with the insights we discover and share while interacting within these open air public landscape laboratories and people.
With special thanks to Stroom and Squat Deluxe.

We proudly present:



WATERPIONIER - SATELLIETGROEP & ONKRUIDENIER
With Waterpionier, Satellietgroep and De Onkruidenier performed fieldwork on several locations searching for salt/sweet gradients in changing landscapes. A mobile Cocktailbar has been developed to share the flavours from the landscape with visitors during climate tastings.
www.satellietgroep.nl & www.onkruidenier.nl

SPECIAL: PERFORMANCE WATERPIONIER COCKTAILBAR!
Can we taste climate change? Satellietgroep and De Onkruidenier invite you to share the taste of liminal landscapes with you during 'climate tastings' in the Cocktailbar on: Thursday 9/2 15:30-17h, Friday 10/2 15:30-17h, Saturday 11/2 13 -14:30h, Sunday 12/2 13 -14:30h.

Waterpionier Cocktailbar. Image: studio Johan Nieuwenhuize

CECI N'EST PAS UNE POMME DE TERRE - LOTTE BOSMAN
Lotte Bosman presents a part of her research into root growth. How deep the roots of a crop grow, doesn't depend so much on the species as on the soil that it is planted in. Potatoes in general, have relatively weak roots that grow around 40 centimeters into the soil. But how far will they reach without this resistance of the earth? www.lottemilenebosman.com




HOLE - FLORA REZNIK
As a student in ArtScience Interfaculty of the KABK and KC The Hague, Flora Reznik was part of the program ElementsLabs, which took place on the Zandmotor. There she developed her work 'Hole'. For this project she kept returning to the Zandmotor during a period of eight months, to dig a hole.www.florenciareznik.com


Satellietgroep is proud te be selected for Intersections at Art Rotterdam 2017, curated by Suzanne Wallinga. Intersections 2017 will host: 1646, BRADWOLFF PROJECTS, Club Solo, de player, DordtYart, FLAM BLA basis for Live Art, Framer Framed, Kunsthuis SYB, Mertens Project Space by Plan B Amsterdam, MILK Amsterdam, NieuweVide, P//////AKT, Patty Morgan, Roodkapje Rotterdam, Satellietgroep, Showroom MAMA, UBIK Rotterdam - WORM Rotterdam, V2_Lab for the Unstable Media, Stichting VHDG, Vleeshal.



Images: Luuk Smits

JAN 12, 2017:
ART, DESIGN, ENGINEERING & CLIMATE CHANGE
Talk about future scenarios in New York City, setting goals, connecting the dots & trans sectoral collaborations EXPLORE, SHARE & LEARN at Cornell University, Architecture Art and Planning Studio Space on invitation by the Consulate General of the Kingdom of the Netherlands in NYC.




JAN 26, 2017 AT UTRECHT JAARBEURS
TALK AT NWO-NKC: ARTS & THE CONCEPT OF BUILDING WITH NATURE
We are proud to present artistic research - developed in close collaboration of the team with artist in residents, designers, students, scientists & public - at the scientific stage of NWO - The Netherlands Organisation for Scientific Research & NKC - The Netherlands Centre for Coastal Research.

EXHIBITION & TALK ABOUT ART, COMMUNITIES & SEA LEVEL RISE, SWEDEN
NOV 17 2016 - JAN 8 2017: Public exhibition 'Vattnet Kommer!' in Form/Design Center Malmö, organized by Lund University & SLU.
MARCH 28 – 29, 2017: Talk at Coastal Conference in Malmö, organized by Swedish Association for Water.


PROGRAM IN 2016:
In 2016 our artistic research projects & public programs are made possible by crowdfunding at Voordekunst, funding by Waterlandse Vloed, the municipality of The Hague and DutchCulture Centre for International Cooperation and commisioned by Provincie Zuid-Holland, The Belgian-Dutch Coastal Network, Landelijk Overleg Kust, Domein Raversyde in Belgium and more!

WHO IS THE 'SELF' IN SELF SUFFICIENCY?


In the Anthropocene humans affect the earth on a geological scale. Satellietgroep explores the Zandmotor, a prime example of the anthropogenic frame of mind, as a cultural phenomenon. We need engaged artists and passionate scientists to unexpectedly explore the world around us and jointly test our perceptions.




Satellietgroep @ NYC

OVER
Kunstenaarscollectief Satellietgroep (Den Haag, 2006) onderzoekt de zee, kusttransities, klimaatverandering en de rol van de mens in deze processen, in binnen- en buitenland.
Met de actuele discussie over het nieuwe geologische tijdperk, het Antropoceen genoemd, komen we tot het inzicht dat de mens ook sturend is in veranderingsprocessen op aarde. Veel van ons veranderende klimaat hangt nu immers samen met de invloed die wij als mens uitoefenen op onze leefomgeving. Besef van het kustlandschap als cultuurlandschap draagt bij aan het beter leren begrijpen van de geschiedenis (waar komen we vandaan) en de toekomst (waar gaan we naartoe). Satellietgroep onderzoekt samen met kunstenaars, ontwerpers en experts sinds 2014 de Zandmotor als cultureel fenomeen, als voorbeeld van de antropogene invloed van de mens op aarde. Na eeuwenlang bouwen van dijken, dammen en sluizen die effect hebben op onder meer verzilting en het verhinderen van transport van sedimenten naar zee (de zogenaamde zandhonger langs de Nederlandse kust) is de Zandmotor het nieuwste voorbeeld van de hybride relatie mens en natuur: build by man, performed by nature. De Zandmotor is een nieuw kustlandschap in Zuid-Holland, ten zuiden van Den Haag. Als een efemeer Land Art project is de Zandmotor in 2011 gebouwd met 21,5 miljoen m3 Pleistoceen zand van de bodem van de Noordzee, uit de tijd dat de mammoeten wandelden over de bodem van wat we nu de Noordzee noemen. Het is een openbaar toegankelijk wetenschappelijk onderzoeksterrein om nieuwe kennis te genereren voor de toekomstige kustbescherming, genaamd Bouwen met de Natuur. Uniek, want de Zandmotor is het enige stukje buitendijks Nederland dat is gebouwd als experiment om te veranderen en zelfs op te gaan in zee, strand en duinen rond 2031.

ABOUT
Artists collective Satellietgroep (The Hague, 2006) explores through arts & design the social and ecological impact of the sea and coastal transitions on cities, people, communities and environments, and vice versa the influence of mankind on coastal transitions and climate change in The Netherlands and abroad. Our aim is to enhance public and professional awareness on coastal transitions. Satellietgroep hosts artists in residents for artistic fieldwork, connect with locals and experts and develop new concepts and works that reflect the resilience of coexistence of man and water, in past, present and future. Long term projects are 'Badgast' - artist in residency program at The Hague/Scheveningen (2009-2014), 'Now Wakes The Sea', the international exchange residency program in collaboration with international cultural partners (since 2012).
Starting September 2014 we program the first artistic research on the Zandmotor in collaboration with Villa Ockenburgh/Locatie Z (2014-2015), with international collaborations with Nida Art Colony (LT), NCCA St.Petersburg (RU) and LMCC (NYC).
Satellietgroep programs 3 DCR Gueststudios at DCR, the cultural incubator in The Hague that also houses 35 permanent studios for artists and designers, including the studio of Satellietgroep, Zaal 3 - laboratory for performing arts of Theater aan het Spui, sound studio Loos, Cloud Danslab and exhibition space Nest. If you are interested in a short or long term cultural visit in The Hague, chack out: www.gueststudio.com | www.dedcr.nl
The curatorial team of Satellietgroep consists of Jacqueline Heerema, Francois Lombarts and Lotte Bosman.



Satellietgroep @ Zandmotor



INVITATION DECEMBER 10, 2016:
PUBLIC EXPEDITION SOLLEVELD & ZANDMOTOR#10: WATERPIONIER
Satellietgroep and Onkruidenier warmly invite you to join our public expediton through the coastal landscape of Solleveld and Zandmotor.
Link to newsletter December 2016: http://ymlp.com/zcKkfI

Together with experts in hydrology, Dunea water & dune, archeology and ecology we will walk through a time line of 10.000 years coastal landscape history. Visiting several locations in the dunes and on the Zandmotor we experience the different relationships we have with water, climate and nature. Together we reflect on the influence of climate change and sealevel rise and how we can learn to positions ourselves in these transitions for the coming future. During the expedition Satellietgroep and Onkruidenier will offer the participants at 5 locations the taste of the old and new coastal landscape.

The expedition is expected to last about three hours. There's a limited amount of places available, so please sign in beforehand by sending an email to: satellietgroep@gmail.com
We'll then send you more detailed information about the expedition, route, location and options for (public) transport.

During this expedition we position ourselves as climate tour guides and learn all about fresh water making in the dunes, discovering the old agriculture fields and archeological traces in the dunes, the Zandmotor and the new fresh water lens toward the ancient fossil water pockets in the seabed of the North Sea.

With special thanks to: www.onkruidenier.nl | www.dunea.nl | www.awn-archeologie.nl | www.denhaag.nl/archeologie | www.denhaag.nl/nme | www.zandmotor.nl | www.naturecoast.nl
and the municipality of The Hague.



Photo: Frouwkje Smit

NOVEMBER 23, 2016
TALK AT GEOBUZZ 2016: THE ANTHROPOGENIC COASTAL ATLAS
Program about our changing environment, organized by DataLand, GeoBusiness Nederland, GIN, Kadaster, Ministerie van I & M, NCG, OGT, OSGeo.nl, Provero, Ruimteschepper, Sense en WUR.
www.geobuzz.nl






OCTOBER 22-30, 2016
DUTCH DESIGN WEEK - EARTH TO TABLE
Satellietgroep is proud that during DDW in Eindhoven Atelier NL presents Zandmotor ZandGlas as part of the Earth to Table experience and that Onkruidenier is hosted with Veldwerkplaats, developed in collaboration with Overtreders W!
Check out this amazing program at: http://www.earthtotable.nl
OCTOBER 2 2016: 11:00 - 13:00
TALK AT FINISSAGE MANMADE, DOMEIN RAVERSYDE, BELGIUM
With Marleen Wynants (directeur Crosstalks), Tim Joye (curator MANMADE), Johan Braeckman (UGent), Gwendolyn Maertens (Food for Tought), artist Maarten Vanden Eynde, Jacqueline Heerema (curator Satellietgroep), Peter Defurne (Kunstacademie aan Zee), Benoit Strubbe (Raversyde) and Mathieu de Meyer (Coördinator-conservator Raversyde).
http://www.raversyde.be/nl/kunstenaars


YOU CAN ORDER NOW!
ZANDMOTOR ZANDGLAS BY ATELIER NL
You can sign up now for the very first 'ZandGlas' by Atelier NL:
unique hand blown objects made from Zandmotor sand.
Satellietgroep is very proud that Atelier NL has choosen to work with Satellietgroep and has developed this new visual narrative of the hybrid relationship of mankind with nature. This Zandmotor ZandGlas is a prime example of Innovatory Heritage, an innovative method of storytelling through arts, design and science for broader audiences.

These are the very first prototypes of a new serie and thus a real collector's item. 'ZandGlas' is not just for connoisseurs – but for all coastal, art and design enthusiasts with a passion for history and innovation. Contact Atelier NL if you are interested at office@ateliernl.com

Designers Nadine Sterk and Lonny van Ryswyck of Atelier NL used the sand from the Zandmotor and developed ZandGlas in collaboration with our network of scientists. For the manufacture of the limited edition, the designers worked together with Gert Bullée, top glassblower in the Netherlands. At high temperatures, the wild sands of the Zandmotor melt and eventually transform into characteristic, pale green glass. Sleek and elegant design in a sophisticated colour, and with charming imperfections that make each object unique.
More at www.ateliernl.com


Photo: Teun van Beers


SEPTEMBER 14+15, 2016:
5 YEARS ZANDMOTOR CONFERENCE
http://www.dezandmotor.nl/en/research/the-sand-motor-five-years-of-building-with-nature/programme/
We warmly invite you to join the presentations by Satellietgroep & Onkruidenier of the project 'Water Pioneer':
September 14: Talk & Presentation 'Zandmotor as cultural phenomenon', Kurhaus Scheveningen
September 15: Expedition#9: 'A Taste of the Zandmotor', Zandmotor south of The Hague
With special thanks to all participants, partners, Provincie Zuid-Holland, municipality of The Hague.


HOORAY! THE ZANDMOTOR IS FIVE YEARS!
During the celebration of the fifth anniversary of the Zandmotor Helga van Leur, meteorologist and weather forecaster on Dutch National Television, will lead a program involving international speakers and guests that reflect on the results and implications of the Zandmotor - Building with Nature - for future coastal protection.

Link to newsletter: http://ymlp.com/zxLgwZ

INVITATION
THURSDAY SEPTEMBER 15, 15:30-17:30
PUBLIC EXPEDITION ZANDMOTOR#9
A TASTE OF THE ZANDMOTOR!
LOCATION: ARGUS MAST, ZANDMOTOR
Satellietgroep and Provincie Zuid-Holland kindly invite you to the Public Program of the Zandmotor conference on September 15th. The Zandmotor is an open air scientific laboratory and also a favorite spot for young and old, walkers, kite surfers and fossil collectors and we organize a special public program for all to join!
Satellietgroep & Onkruidenier will offer you an alluring tasting. Visit the Zandmotor Cocktail Bar and taste the unique palette of the Zandmotor! Hang out by our bar and hear all about the latest gossip of the Zandmotor.
www.satellietgroep.nl | www.onkruidenier.nl | www.dezandmotor.nl




SEPTEMBER 14, KURHAUS SCHEVENINGEN
5 YEARS ZANDMOTOR CONFERENCE
ZANDMOTOR AS A CULTURAL PHENOMENON
Satellietgroep is invited by Rijkswaterstaat and Provincie Zuid-Holland to participate during the Zandmotor Conference on the 14th of September in order to celebrate 5 years of the Zandmotor. We will give a Talk and Presentation of the Zandmotor as a Cultural Phenomenon.
The Zandmotor is described as Building with Nature, a conceptual shift in our relationship with the sea. This relationship is as much a cultural phenomenon as it is an ecological or engineering one. Designed by man, performed by nature. Satellietgroep explores the Zandmotor as an innovation that generates innovatory visual narratives about the hybrid relationship of mankind and man made nature. It requires the arts and design to further explore the implications of this evolving relationship to be shared with broader audiences.

During the Expo Market of the conference Satellietgroep presents a selection of our growing Zandmotor Collection, developed by artist in residents Zoro Feigl, Theun Karelse, Josje Hattink, Berndnaut Smilde, Sarah Cameron Sunde, Laboratory for Microclimates, Esther Kokmeijer and students of the ArtScience Interfaculty, in close collaboration with cultural partners, scientists and local experts.

Together with Onkruidenier we present the ongoing research called Water Pioneer, with A Taste of Climate Change, drinks and amuses made from edible plants found on the Zandmotor.
Design duo Atelier NL presents ZandGlas, an unique set of glassware, made of sand from the Zandmotor.
TU Delft, Department of GeoScience & Engineering, Faculty of CITG presents the innovation called Beachrock, a process that turns sand into stone.
Watch the video how sand is turned into stone: https://www.youtube.com/watch?v=wxkAwJUStNs
For the CoRncrete workshop, see the other movies:
https://www.youtube.com/watch?v=hqff5Iq7iCs
https://www.youtube.com/watch?v=yP8ivpt72iQ
Images: Frouwkje Smits & Hanne Nijhuis


AUGUST 24: Presentation & Tasting 'Landschapsexstracten Waterland' at Felix Meritis, Amsterdam

SEPTEMBER 4: Talk 'Climate as Artefact - Are we in the position of observer or actor of liminal transitions?' at MU - Weather or not, Eindhoven

SEPTEMBER 22 : presentation of Expedition Landschapsextracten during Amsterdam Atlantis & Water Republic#11, 20:00-22:00 in Pakhuis de Zwijger, Amsterdam


SEPTEMBER 22: participation with sound piece 'Water Pioneer' by Satellietgroep & Sciant Lentement during Audio-DH. Curated by Francisco Lopéz with the works of 250 of The Hague's most vibrant sonic art, in Korzo Theater The Hague with iii & TodaysArt: http://iiinitiative.org/agenda/


SPRINGPROGRAM 2016:


FEBRUARY 2016:
NL-BE COASTAL NETWORK MEETING 2016
Satellietgroep presents a critical analysis of spatial coastal quality and tourism along the Dutch and Belgian coastlines.



Satellietgroep @ NL-BE
APRIL 2016
NATIONAL COASTAL MEETING - LANDELIJKE KUSTDAG 2016
Satellietgroep is invited to engage the expert audience in a cultural search how coastal transitions influence their personal and professional perceptions. Commisioned by province South-Holland.

APRIL 2016
ARCADIS BELGIUM INVITES SATELLIETGROEP AS INSPIRATOR FOR RESEARCH PROPOSAL, DOMEIN RAVERSYDE, ON THE BELGIAN COAST
A cultural analysis of a layered coastal heritage landscape, shaped through geological time and human interferences.

APRIL 2016
WORKVISIT TO SEALOFT & LATERAL LAB (UK)
Preparation visit for collaborations with Liz Ogelvie. First exchange resident at Sealoft June 2016 is Nishiko (Nl/J), former resident of Satellietgroep at Badgast.

MAY 2016
OUR BILATERAL ARTISTIC/CURATORIAL PROPOSAL FOR THE OPENING EXHIBITION OF VALLETTA EUROPEAN CULTURAL CAPITAL 2018 IS SHORTLISTED!
On May 8th we defend our proposal at Valletta, Malta.

MAY 27-29
SATELLIETGROEP @ FESTIVAL DESIGNKWARTIER, THE HAGUE
LOCATION: DE TEMPEL, DEPARTEMENT OF ARCHEOLOGY, NATURE AND ENVIRONMENT
Satellietgroep presents arts and design, research and products that reflect coastal transitions, climate change and the human role in these processes. With Atelier NL, Theun Karelse, ArtScience Interfaculty Royal Academy of Arts, Studio Nienke Hoogvliet, Aliki van der Kruijs, Waterpioneer & De Onkruidenier.
With special thanks to the Festival Designkwartier and the municipallity of The Hague. More: www.festivaldesignkwartier.nl

Press (Dutch only):
http://jegensentevens.nl/2016/05/designplezier-in-zeeheldenkwartier/
http://trendbeheer.com/2016/05/28/festival-designkwartier-den-haag/



Studies Zandmotor Glasservies, Atelier NL



Doggerland Clock, Theun Karelse



ElementsLab, ArtScience Interfaculty
Link to video made by Victoria Douka-Doukopoulou:
vimeo.com/dkdkpl/elements


SEA ME collectie, Studio Nienke Hoogvliet

Made by Rain, Aliki van der Kruijs


SUMMERPROGRAM 2016:

JULY 21, 2016:
Talk at Summerschool TU Delft, Sand: an (in)finite resource?

JULY 26, 2016:
Talk at ESOF2016 in Manchester: Arts, Science & Climate Change
EuroScience Open Forum, founded in 2004 by EuroScience, the non-profit grassroots organization of researchers in Europe, is the biennial pan-European meeting dedicated to research and innovation. More: http://www.esof.eu/

2016: NEW ARTISTIC RESEARCH ZANDMOTOR: THE WATERPIONEER
SATELLIETGROEP & DE ONKRUIDENIER
How salt adaptive are humans? Around 3% of the earths water is fresh. So why not look at the potential of using that other 97%? Can humans become more salt (halo) tolerant?
Plants, animals and humans appropriate the new coastal landscape of the Zandmotor. The first concern for these pioneers is drinking water. On the Zandmotor there are no visible forms of fresh water. No rivers and no water taps, a dessert surrounded by the salty waters of the sea.
Halotolerance is the ability of living organisms to adapt and survive in conditions with a high salt content. What can we learn from the ability of plants and animals to adapt and survive in a salty environment? Can humans evolve and become more halotolerant?
Satellietgroep & De Onkruidenier explore the timeline of the old dunes of Solleveld with human traces since the Iron age and Dunea (Dune and Drinking Water Company), the reconstructed watershed, the growing sweetwater bubble underneath the newest innovation Zandmotor with NatureCoast until the fossil water under the North Sea, to learn to understand the gradients of salinazation of the Zandmotor and Solleveld dunes. With special thanks to the municipallity of The Hague.



Photo: Twien

JULY 8-17 2016:
EXPEDITION#8: LANDSCHAPSEXTRACTEN WATERLAND
EXPLORING THE SALT OF THE ZUIDERZEE
SATELLIETGROEP & DE ONKRUIDENIER
Waterlandse Vloed 1916-2016
Over het IJ Festival, NDSM werf Amsterdam Noord
Voordekunst
Facebook: https://www.facebook.com/events/612325228943386/
Tickets: www.overhetij.nl
For donations: https://www.voordekunst.nl/projecten/4616-expeditie-landschapsextracten

As part of the ongoing research called Waterpionier, during Expedition Landschapsextracten Satellietgroep & De Onkruidenier together with farmers, experts and audiences explore the impact of salt of the Waterland Flood of 1916 in the landscape.
Untill a hunderd years ago Amsterdam was on the shores of the Zuiderzee, protected for tides and salt water intrusions by dikes along the IJ. In 1916 the dike at Schellingwoude broke. Salt seawater flooded the landscape and infuenced lives and environment. This flood instigated the building of the Afsluitdijk and Zuiderzee became IJsselmeer. After hunderd years, can we still find the traces of salt in the landscape of Waterland? In the soil, the water, the plants, the naratives? Can we tast the salt of the Zuiderzee?

VOORDEKUNST
Would you like to taste the salt of Waterland Flood?
You can contribute now to this project with your donation, book one of the bike expeditions and visit the Landschapsbank at Over het IJ Festival. Support the project and soon you'll be able to taste the salt of the Waterland Flood!
https://www.voordekunst.nl/projecten/4616-expeditie-landschapsextracten

EXPEDITION LANDSCHAPSEXTRACTEN
Join us for the bike expedition and discover what lies beneath the surface of the landscape! Explore with artists Ronald Boer, Jonmar van Vlijmen and Francois Lombarts and their mobile labs the various landscape extracts. Be sure to bring along a bike.
Dates: 9, 10, 16 en 17 juli, 15:00 - 18:00
Tickets: € 15 pp
Book your tickets: www.overhetij.nl

EXHIBITION LANDSCHAPSBANK LANDSCHAPSEXTRACTEN
Explore the edible archive of Waterland! All findings of the mobile labs and expeditions will be presented at the Landschapsbank during Over het IJ Festival at NDSM werf in Amsterdam. You can join us to explore and taste this edible archive of landscape extracts of Waterland.
Dates: 8 t/m 17 juli
Location: Over het IJ Festival op NDSM werf, TT Neveritaweg 61 in Amsterdam Noord
More: www.onkruidenier.nl | www.waterlandsevloed.nl | http://overhetij.nl
Landschapsextracten is part of Waterpionier research.





JUNE 18 2016: PUBLIC EXPEDITION ZANDMOTOR#7:
CINEMARE#2: CLIMATE PROOF BY ESTHER KOKMEIJER
SAND SONGS BY iii, ArtScience & TodaysArt
19:00 - 24:00

Premiere on the Zandmotor of the documentary by artist in resident Esther Kokmeijer of the Experiment that was performed on the Zandmotor during the Wintersolstice. Collaborative program with Sand Songs by iii (Instruments Inventors Initiative), ArtScience Interfaculty & TodaysArt. Please register in advance at manon@iiinitiative.org and we will inform you on the route (by bicycle, public transport or car) and what you need to know when visiting the Zandmotor.
Location: Argusmast at Zandmotor, south of The Hague
Dresscode: Outdoor




PROGRAM:
iii: SAND SONGS - PLAYING THE ELEMENTS AT THE ZANDMOTOR
SPECIAL: FM Zandmotor Radio by Fauna
Marije Baalman, Lars Kynde, Tobias Lukassen, Christian Liljedahl, Ana Lemnaru, Grzegorz Marcinak, Maya Verlaak, Adam Basanta, David Pocknee, Tena Lazarevic, Jesse Smits, Kay Churcher, Cecile Gentili, Sophie Rust.
Performances: start at 19:00

For SAND SONGS a group af artists is invited to imagine this landscape as if it is a musical instrument, played by the natural elements and by human intervention. The artists developed performances and musical compositions especially for the landscape of the Zandmotor. In a series of short and longer interventions, they make use of sound, light, the wind, water flow and the sand in new and inventive ways. Flying a kite becomes a new way to make electronic music; home made pulse jet motors generate a composition on the scale of a landscape; there are kinetic wind and light sculptures; a soundwalk guides you along as you walk blindfolded, and you can take part in a musical treasure hunt, searching for sounding objects buried in the sand.
Read more about the SAND SONGS program: www.iiinitiative.org/sandsongs

SATELLIETGROEP CINEMARE#2:
PREMIERE 'CLIMATE PROOF' BY ESTHER KOKMEIJER
SPECIAL: 'Sur Polar - Art in Antarctica' by Andrea Juan
A TASTE OF THE ZANDMOTOR: Waterpionier by Satellietgroep & De Onkruidenier
CineMare: start after sunset

You are warmly invited to join the premiere of the videowork 'Climate Proof' by Esther Kokmeijer.
On invitation of Satellietgroep artist in resident Esther Kokmeijer realized artistic research about the climate adaptivity of humans on the Zandmotor.
The Climate Experiment on the Zandmotor took place during the Winter Solstice on 21/22 of December 2015, the shortest day and the longest night. Led by several different experts a select group of 15 invitees experienced, embraced and questioned extreme cold and heat to the limits of their body. Among the experts were Dirk Sijmons, Jurjen Annen (cold expert), Mark Hoek (heat ritual), Theun Karelse and the Rescue brigade Monster. The experiment was documented for a short documentary and publication. This project is part of an ongoing series of works 'Because we Meet' of Esther about her research in China on invitation by the Mondriaan Fund, on Base Esperanza in Antarctica on invitation of Sur Polar, SM Pro Art, D.N.A., Argentina Ministry of Foreign Affairs and on the Zandmotor on invitation of Satellietgroep.
The program includes the special screening of 'Sur Polar - Art in Antarctica' by Andrea Juan. This is a short documentary film about the Residency Art Program from Sur Polar artists, hosted in Antractica.
During this event Satellietgroep & De Onkruidenier offer you a taste of the Zandmotor, as part of the ongoing research on the Zandmotor, called The Waterpionier.
More: www.estherkokmeijer.nl | www.surpolar.org | www.onkruidenier.nl


DECEMBER 21/22 2015
EXPERIMENT CLIMATE PROOF DURING WINTER SOLSTICE AT ZANDMOTOR
ESTHER KOKMEIJER
On invitation of Satellietgroep artist Esther Kokmeijer is doing artistic research about the climate adaptivity of humans on the Zandmotor.
An experiment on the Zandmotor that will take place during the winter solstice, the shortest day and the longest night. Led by several different experts a select group of 15 invitees experienced, embraced and questioned extreme cold and heat to the limits of their body. Among the experts were Dirk Sijmons, Jurjen Annen (cold expert), Mark Hoek (heat ritual), Theun Karelse and the Rescue brigade Monster. The experiment is documented for a short documentary and publication. This project is part of an ongoing series of works 'Because we Meet' of Esther about her research on the Zandmotor, China and Antartica into the interaction between man and nature. With special thanks to all involved participants, Provincie Zuid-Holland, gemeente Westland, Stroom, Stichting DOEN, Mondriaan Fonds.
More: www.estherkokmeijer.nl | www.zandmotor.nl

Images: Esther Kokmeijer


THE ELEMENTS LAB:
ROYAL ACADEMY OF ART INTERFACULTY ARTSCIENCE
https://elementslabblog.wordpress.com
Starting September 2015 Satellietgroep engages with lectors, students and experts to enhance the scope of artistic fieldwork on the Zandmotor as part of the Interfaculty ArtScience program.
ArtScience offers an interdisciplinary bachelor's and maste